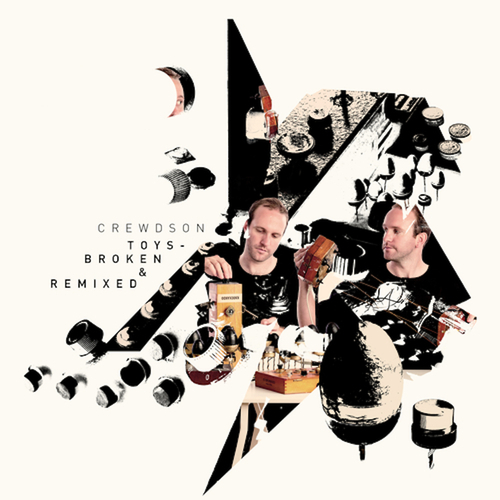 Toys - Broken & Remixed
Available Formats
Tracks
Price
Buy
Download EP (

MP3

)
6 tracks

£

3.50

Download EP (

WAV

)
6 tracks

£

3.50

Download individual tracks
From £0.79
Description
Crewdson - Toys - Broken & Remixed
'Toys - Broken & Remixed' is the latest release from maverick electronic producer, composer, musician and instrument builder CREWDSON [aka Hugh Jones] who, aside from his solo work, collaborates extensively in a number of guises with artists in music, fashion and film including the likes of Matthew Herbert, Femme, s a r a s a r a and Hello Skinny.

The EP follows on from the recent release of his sparkling and innovative second album 'Toys' - an effortless marriage of cutting edge electronic sonics with folk inspired song-form, lyrical ideas and instrumentation - which has received plaudits from the likes of Stuart Maconie [Freak Zone/BBC6], XLR8R, Clash, Exclaim!, Electronic Sound, Vice, Impose, Folk Radio, The Ransom Note, The Playground and more…

"…Crewdson crafts skewed sonics that, frankly, boggle the mind; although, somehow, his music is as accessible as it is weird. On TOYS, Crewdson presents a matured sound, one that fuses pop elements with tumbling rhythms and mind-bending sound design." [XLR8R]

'Toys - Broken & Remixed' features four remixes of tracks from the album book-ended by two quirky Crewdson interludes, out-takes which provide a teaser of his eccentric sound world.

One Little Indian signed producer/singer-songwriter s a r a s a r a remixes 'Funny Games', atomising the original and then reconstructing it into an eerie collage of sparse electronics and disembodied vocals, adding her own voice into the mix.

Synth and drums duo and label mates Soccer96 take the deliciously wonky 'Stanner Nab', re-wonk the groove and ride off into a psychedelic sunset with the repeating mantra "They can go fuck themselves..".

Sultan Shakes take 'Children' and deliver an addictive and oddball slice of minimal dance vibes and electronic producer Bambooman, currently receiving huge acclaim for his new album on Accidental, reworks 'Bottle Rain Smoke' to great effect, working a dreamy, naive and lysergic ambience around Crewdson's vocals.