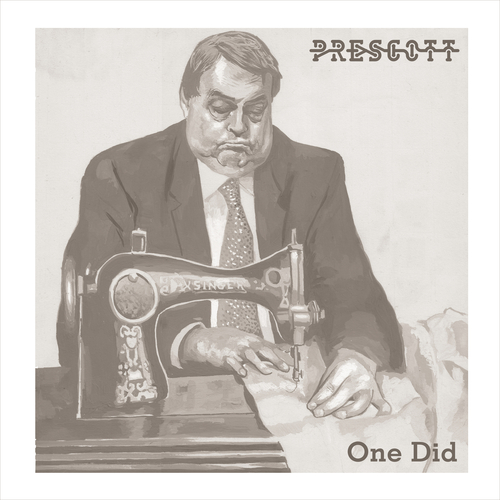 One Did
Available Formats
Tracks
Price
Buy
CD Album
11 tracks

£

8.99

Download Album (

MP3

)
11 tracks

£

6.99

Download Album (

WAV

)
11 tracks

£

6.99

Download individual tracks
From £0.79
Description
Prescott - One Did
Prescott is the brainchild of former Stump bassist, Kev Hopper. Hopper's distinctive bass style was one of the most striking elements of Stump's sound during the 1980s; since then he has produced numerous solo albums and more experimental work with the laptop quartet, Ticklish – but the all-instrumental Prescott signals a halt to Hopper's, abstract, atmospheric electronica and a return to working with a full band.

In Prescott, he is joined by two formidable musicians. On keys is Rhodri Marsden, Scritti Politti member and indie veteran who worked on Kev's 2001 album "Saurus"; on drums is Frank Byng [Snorkel, Crackle], a dynamic, prodigious musician who also runs Prescott's label, Slowfoot. Frank's groovy, funky, explosive drums, Rhodri's precise keyboard work and Kev's characteristic bass playing meet all the Prescott objectives: jabbing heteroclite riffs, circular rhythmic patterns, vibrating harmonic clashes, irregular note intervals, all contrasted with pockets of beautiful melody.

The band's minimal approach has occasionally caused puzzlement at gigs when their strategy of 'micro-riffing' is deployed: playing a tiny portion of a track without variation for as long as they can hold their nerve. In an age where loops are commonplace it's rare to find a band imitate a machine in a live context. "Play it till it feels uncomfortable", Hopper has told the band. "Our time is different from the audience's time". Why would a band want to do that in the first place, you may ask? Well, it's partly for fun, and partly as a tribute to the band's namesake, the former honourable Member of Parliament for Hull East, known for his unintelligible conference speeches and bruising, bullish manner.

Funky beats and discordant riffs? Simple themes played a semitone apart? There are plenty of art-rock precedents; Palais Schaumberg, Can, Soft Machine and The Residents to name but a few. Prescott serve up their own, discrete take on the genre with their first recording, 'One Did' on Slowfoot Records.

Credits:
Kev Hopper - bass
Rhodri Marsden - keys and guitar
Frank Byng - drums

with The Remote Viewer Horns on 'Philby Flies'
Dave Petts
Sue Lynch
Adrian Northover

Recorded by Paul Richardson at Snorkel Studios
Mixed by Frank Byng and Prescott.



Reviews
"...Hopper revels in angular mischief throughout One Did's 11 gleefully perverse instrumentals. The finest moments here - the tense, Can-like shuffle of Didism; the twitching, cinematic jazz menace of Philby Flies - are throwbacks to Stump's heroically non-conformist clatter, and a tantalising glimpse of what's in store if Hopper continues this joyously wayward course." [Prog Magazine]
"Prescott make music that is hilarious as it is infuriating. Hopper's bouncing twang grabs hold of Byng's metronomic dub-funk rhythms, with Marsden adding tight slashes of discordant electric piano and crumpled clavichord scrunches… neatly positioning Prescott - and Slowfoot - in a fictional and slightly skewed parallel universe where wayward British eccentrics lurk at every turn." [The Wire]
"…the wildly eccentric melodic and harmonic choices and snare-tight but restless compositional arrangements make this a remarkably confrontational and uncomfortable (albeit totally compelling) listen… …As far as British-politician-themed art-rock bands go, Prescott are a unique and mischievous proposition." [The List]
" You wouldn't be surprised to know that former Stump bassist Kev Hopper is behind this gem... ... A tirade that breeds some nice irregular metrics, funky falls and even a smidgen of dub." [Freq]
"For sheer verve this will be a tough album to beat - by turns odd, melodic, exciting." [Terrascope Rumbles]
"Best band in the world...ever!" [John Prescott]
"...all three have fully succumbed to and are in thrall of th' groove - albeit a refreshingly inventive and unconventional one." [Terrascope]
"The real beauty of the material lies in the lithe and minimalist nature of group... ...More than all this, as the group's first recording One Did serves to underline the true potency of the experimenting that's key to the Prescott trio." [Sonic Router]
"This is a fascinating set of avant-rock worthy of the attention of progressive rock fans and anyone who's looking for something different in their listening." [Expose]
Tracklisting
CD Album (SLOCD023)
Download Album (SLODL023)
Prescott

- Floored

Prescott

- Didism

Prescott

- Two Words Ruder

Prescott

- Military Maids

Prescott

- Philby Flies

Prescott

- Reversal

Prescott

- Metro Monique

Prescott

- Piece of Cake

Prescott

- T-Sup

Prescott

- We Insist

Prescott

- One Done