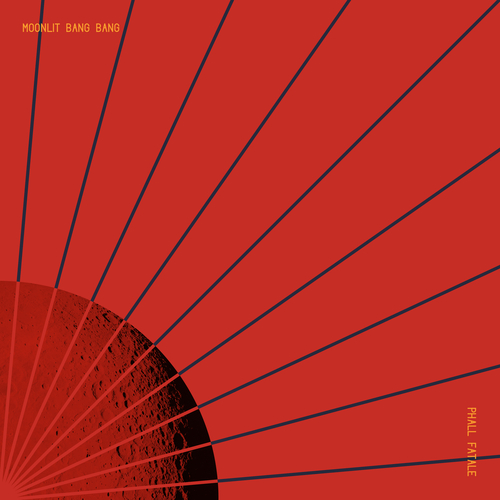 Moonlit Bang Bang
Available Formats
Tracks
Price
Buy
CD Album
12 tracks

£

9.99

12" Vinyl Album
12 tracks

£

14.99

Download Album (

MP3

)
12 tracks

£

7.99

Download Album (

WAV

)
12 tracks

£

7.99

Download individual tracks
From £0.79
Description
Phall Fatale - Moonlit Bang Bang
There aren't many records that call to mind The Slits, CocoRosie, Portishead, Donkey Monkey, Micachu and the Shapes, and The Thing featuring Neneh Cherry. The second album by Phall Fatale shouldn't really work: to be post-punk in spirit whilst displaying such obvious virtuosity seems a contradiction. But Moonlit Bang Bang is extraordinary precisely because of this unusual collision of technique and tearing it up. As distorted and abrasive at certain moments as it is fragile and subtle at others, the record succeeds in channeling avant-garde improvisation into catchy, compact song form. Maybe that's what happens if your collective influences include Nina Simone, Jimi Hendrix, Iannis Xenakis and Albert Ayler. It isn't easy to say where it ends up. Contemporary post-punk? Avant pop? Leftfield vocal jazz, of a kind that features no brass – or even, in the commonly understood sense, solos? A kind of alt R'n'B that makes alt R'n'B sound like Rihanna? The band themselves see the record as contemporary pop – but a kind of pop that draws heavily on improvisation, and which is interspersed with 'hardcore packets of groove and spoken word'.

The line-up, for all its symmetry, is odd: two vocalists, two double bassists and a drummer. One of the singers is Joana Aderi, who also makes experimental electronica as Eiko; joining her is Joy Frempong, known for her work as one half of OY (Crammed Discs). One bassist is Daniel Sailer, previously known for performing both contemporary classical music and hardcore noise (O'Haldenramm, Krakatau, Pol, Frachter). The other is John Edwards – quite a coup, given that he has worked with such avant-garde luminaries as Evan Parker, Peter Brötzmann and Wadada Leo Smith, as well as performing the songs of Robert Wyatt in Comicoperando. Completing the group is drummer and driving force Fredy Studer (Joe Henderson, Miroslav Vitous, Dave Holland, Jack DeJohnette, Paul Motian, John Abercrombie, John Zorn, Fred Frith). Something about Studer's playing, which runs the gamut from full-blown rock-out to subtly textural, reflects that of the group as a whole, and he is both foundation and ornament to their unique sound.

The tunes, too, are unpredictable. Opener and lead single The Girl, The Beat calls to mind Grace Jones and Barbara Morgenstern, though was apparently (and wonderfully unexpectedly) inspired by Right Said Fred. Electric Eel has something of the same feel, but with a stop-start arrangement that never settles into 'safe'; the same is true of Fish Tank, and Crocodile, in which distorted choruses crashes into poignant sections of bowed bass. There's even a Hendrix cover: a re-invention of Manic Depression that sounds far more manically depressed than the original. The musicianship is extraordinary, and the musical horizons extraordinarily broad: the verse of Sugar Drops features nimble, frantic double bass and effortlessly rolling beats, but the rhythm section turns suddenly unhinged in the chorus. The twin voices, meanwhile, can be absolutely in sync, as on Ring The Bell, midway between underground hip-hop and an Indian vocal percussion exercise; they can also split in two, as for the call and response chorus of Sleeping Beauty. Key to weaving together all these threads is producer Roli Mosimann, an early member of Swans who has also worked with JG Thirlwell, Young Gods, New Order, The The and Faith No More – and described by Studer as the sixth member of the band.

Perhaps most remarkable is the fact that, for all its diversity, the album still sounds coherent and cohesive, even catchy; the scaffolding may often be kicked away, but the solid songs and hooky vocal lines remain intact.

Credits:
Joana Aderi - voice, keyboards, electronics
Joy Frempong - voice, keyboards, electronics
John Edwards - double bass
Daniel Sailer - double bass
Fredy Studer - drums, percussion, metal, bowed gong
Produced by Roli Mosimann.



Reviews
"Music this impossible to categorise has to be doing something right, right?… …Moonlit Bang Bang is post-punk imploding like a black hole, hauling in all manner of other styles such as avant-jazz, Japanese noise music, industrial funk, On-U Sound and more." [The Arts Desk]
"Extra-hot debut from European avant-prog revolutionaries… …This towering follow-up to 2012's Charcoal On Fire is a startling new blend that'll scorch you nicely." [Prog Magazine]
"Dual vocalists Joana Aderi and Joy Frempong are terrific, especially on the standout 'Crocodile'." [The Wire]
"Welcome to the bizarre and brilliant sound of Phall Fatale.. … an album of almost staggering variety and scope - it's not often we could reference System of A Down alongside Portishead, Micachu and the Shapes or Neneh Cherry, but we just did, so stick that in your pipe and give it a good lungful... ...A perfect storm of technical prowess crashing headlong with a firm ripping up of the rulebook, this is music that thinks and moves outside of the box." [Glasswerk]
"It's only January but this might well turn out to be 2016's most ingenious/experimental/accessible/confounding, and unclassifiable, release.... ...It all hangs together beautifully – all the sounds and colours, the excess and restraint, the improvisation and electronics, have a cohesion that bespeaks a real band, with love for the material, that moves and sounds as one. "Moonlit Bang Bang" has a great deal of surface appeal with no shortage of added depth." [A Jazz Noise]
"...recommended enthusiastically if you want something different!" [DMC]
"Wonky, clattering rhythms, swampy reggae-tinged new wave, skittering, slanted guitars and a wildly unconventional approach to composition and arrangements… this album has got the lot. Welcome to the very weird and equally very wonderful world of Phall Fatale. 9/10" [Whisperin and Hollerin]
Tracklisting
CD Album (SLOCD028)
12" Vinyl Album (SLOLP028)
Phall Fatale

- The Girl, The Beat

Phall Fatale

- Sugar Drops

Phall Fatale

- Electric Eel

Phall Fatale

- Fish Tank

Phall Fatale

- Ring The Bell

Phall Fatale

- Crocodile

Phall Fatale

- Tree House

Phall Fatale

- Funny Money

Phall Fatale

- Un Grand Sommeil Noir

Phall Fatale

- Sleeping Beauty

Phall Fatale

- Manic Depression

Phall Fatale

- Night
Download Album (SLODL028)
Phall Fatale

- The Girl, the Beat

Phall Fatale

- Sugar Drops

Phall Fatale

- Electric Eel

Phall Fatale

- Fish Tank

Phall Fatale

- Ring the Bell

Phall Fatale

- Crocodile

Phall Fatale

- Tree House

Phall Fatale

- Funny Money

Phall Fatale

- Un Grand Sommeil Noir

Phall Fatale

- Sleeping Beauty

Phall Fatale

- Manic Depression

Phall Fatale

- Night